Welcome to Goldmann.com
New Logo!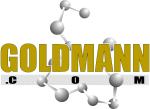 Eventually I'll get it incorporated into the site...
Goldmann.com important stuff
Family members/those with the last name Goldmann (2 N's!!) desiring a goldmann dot com email forwarding address please contact me and I'll set it up. Even if outside the USA. Currently at no cost..


Technical Department:

Presented HERE is a technical treatise/proposal as to the origins (continual regeneration?) of geologic petroleum.